Do you know one of the most tired, crazy, sloppy and weird creatures around you? Or are you the one with the traits mentioned above? Confused? Don't be. I am talking about the most 'Khawar' creatures of the World: Engineers. This creature has the unique trait: You cannot please these creatures with your usual gifts like stuff toys, a favorite book, new DVD or a designer shirt. What to do when you come across the birthday of your engineer friend? It feels like you are flying up in the sky without wings. Impossible and unachievable! You can either choose to jump from the roof or find a gift that can please the engineer. Cows will never fly, and likewise, your usual common gifts will never please an engineer. What should you choose then? We compiled a list of some gifts your engineer would love to have. Let us find out.
1. Perpetual Calendar:
Day? Month? Day? Month? Get rid of this confusion and buy this stylish yet practical gift of art for your office engineers. It would look great in their office while they are busy in some dull routine work. It tells the month and day no matter which day of the year it is. Re-use every year and save the need to buy one every year. You can find one here.
2. Math Formulas Tie:
Next on the list is the genius idea for math maven. This math tie doesn't have a usual stripes or dot style. Rather, it is full of numbers, equations and symbols to play with. You can get one here.
3. Binary Clock:
Tick tock tick tock! An engineer is always short of time, rushing in a hurry. A clock is a must gadget for an engineer. Why not make it a bit fun and interesting? Make sure your engineer knows how to decipher the hefty codes of 0's and 1's. Buy one here.
4. Electric Paint Pen:
The science of circuits is the area of interest only a few engineers can master. Is your engineer a pro in designing circuits that work? This electric paint is just like a water-based paint, except that it conducts electricity! Cool and techie, right? Get one here.
5. Smartphone Controlled Paper Airplane:
Engineers might seem like the boring geeks to you every time. But, eventually, they surely would love to have some fun gadget on their desk. Get them something new rather than those traditional, bulky and battery intensive remote control helicopters and planes. You can buy these motorized smartphone controlled paper planes here.
6. Circuit Board Phone Case:
Stop giving those sparkling, and old-fashioned hello kitty or Batman smart-phone covers to your friend (THE ENGINEER). Get the stylish yet innovative present for your engineer friends; a circuit board phone-case.This case has a style that fits their personality and a cell phone cover to protect their smartphones.
7. Carbon Fiber Wallet:
What you see above is not the usual wallet you find in the market. It is a real carbon fiber bi-fold wallet with RFID credit card protection. A perfect gift and a blend of engineering and modern design for engineer peeps out there. Grab one for your friend from here.
8. Edible Candy Gears: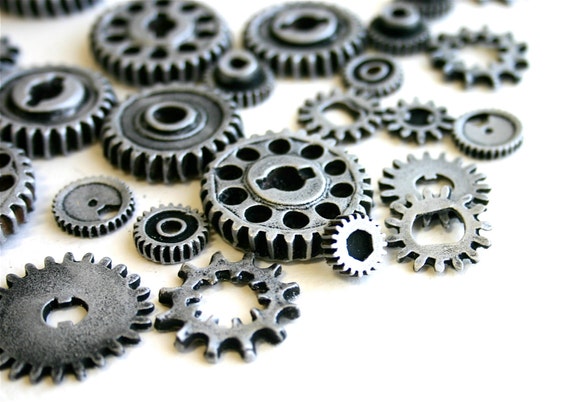 You got a friend who is a chocolate-lover but engineer as well. Those heart chocolates and bear candies are not enough to present your friend with. Antique inspired creative edible candy gears are nonetheless perfect item to buy. Get them for your futuristic innovator and pro-machinist here.
9. Remote-controlled Machines:
Get it, build it and use it! This one is the unique and practical gift for the engineers who love to design on their own. First, your friend would love to figure out the making of this machine. Next, enjoy the machine which will do whatever he would want it to do. Get this present here.
10. LED Fiber Optic Jacket:
Last but not the least, this gift idea is coolest of all. Switch between four colors and keep it on for 8 hours on a single charge! Incredible, isn't it? No more classic and traditional jackets, innovate the cupboard of engineers around you. Stop looking, get one here.
I know you would be thinking of finding a way to thank me. Now you have 10 most awesome and creative gift ideas right in front of you. Grab the one you love the most! Amaze and please these engineer creatures around you! Just to share with you, I am also the creature known as Engineer (to be). 😛